The Process of Cold Heading Manufacturing
What does the process of producing cold headed fasteners look like? And how does raw material become a fastener? This infographic outlines the process of cold heading manufacturing in 7 steps.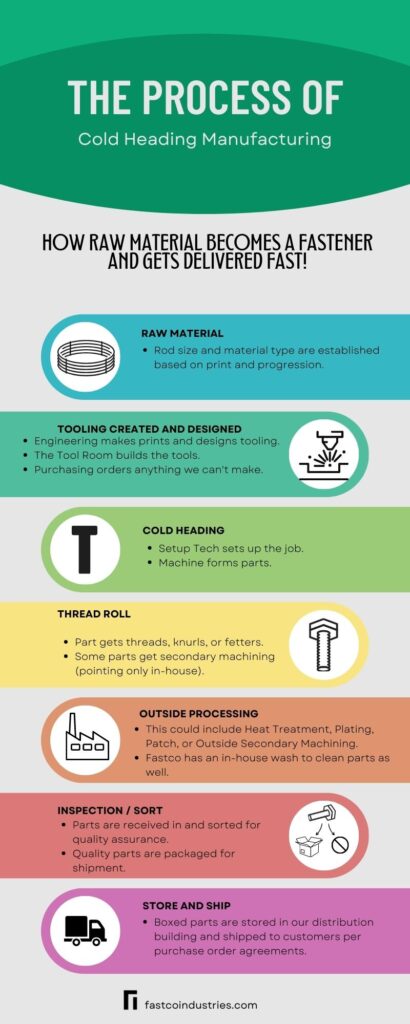 Step 1: Raw Material
First, we establish the rod size and material type based on print and progression.
Step 2: Tooling Created and Designed
Fastco's engineering team makes prints and designs tooling. Then, our tool room builds the tools and purchasing orders anything we can't make in-house.
Step 3: Cold Heading
A Cold Heading Setup Tech sets up the job on the machine. The machine forms parts via a series of high-speed, high-pressure punches and blows.
Step 4: Thread Roll
The Thread Roll machine rolls the cold headed blanks between two dies to form threads, knurls, or fetters. In addition to thread rolling, some parts may bet secondary machining on one of our 3 pointers. 
Step 5: Outside Processing
This step could include Heat Treatment, Plating, Patch, or Outside Secondary Machining. Fastco has an in-house wash to clean parts as well.
Step 6: Inspection / Sort
Next, parts are received in and sorted for quality assurance. Then, our inspection team packages the parts for shipment.
Step 7: Store and Ship
Boxed parts are stored in our distribution building. Fastco ships these parts to customers per purchase order agreements.