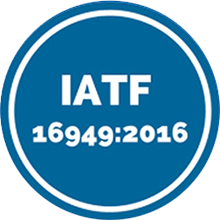 What is IATF 16949?
IATF 16949:2016 (replaces ISO/TS 16949:2009) is a standard that establishes the requirements for a Quality Management System (QMS). ISO/TS 16949, a technical specification for automotive sector quality management systems, has become one of the most widely used international standards in the automotive industry, harmonizing the different assessment and certification systems in the global automotive supply chain.
The standard is based on seven Quality Management Principles, including a strong customer focus, the motivation and implication of top management, the process approach, and continuous improvement.
These Quality Management Principles are:
Customer focus
Leadership
Engagement of people
Process approach
Improvement
Evidence-based decision making
Relationship management
Guided by the IATF 16949 standard, Fastco Industries is uniquely qualified to provide a wide range of special, high quality cold headed products. We would welcome the opportunity to manufacture your production cold headed bolts, pins, rivets, studs, or custom cold heading requirements.