Fastener Features – MAThread® and MATpoint®
Fastco is MAThread® and MATpoint® licensed. These patented thread types are heavily relied upon in automotive applications because they eliminate seizing and jamming of fasteners with anti-cross thread technology. This is especially beneficial for difficult, high-volume assemblies, reducing cost by eliminating the need for expensive reworks caused by cross or false threading.
Many automotive OEMs consider MAThread® to be the standard for externally threaded fasteners. These include GM, Ford, Chrysler, Mercedes Benz, Volvo, and VW.
Fastco can manufacture all of the following types of MAThread® Fasteners:

MATPoint
The most common design, MATpoint works effectively in most applications, except for when prying heavy components into place during an installation.
Very Short MAThread
As indicated by the description, this design has a very short end point. Therefore, this design works best for applications with problematic point clearance and limited angular misalignment.
Dog Point MAThread
Dog Point MAThread performs best on any difficult application or when prying heavy components into place during installation.
"P" Point MAThread
This design works best with difficult applications when the point clearance will not be an issue. In addition, it works well with thick stack-ups of multiple components.
Never-Jam™
If packing length and/or weight is a concern, this is the thread to use. It is effective up to and including 12 degrees misalignment.
Custom MAThread
MAThread can customize design criteria for special applications.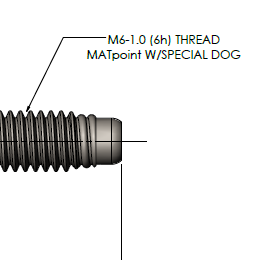 Key Features of MAThread® and MATpoint®
Key fastener features of MAThread® and MATpoint® include:
Self-correcting: This makes thread damage or seizing impossible.
Easy-to-use: This allows any installer to use them without fear of fastener or part damage
Customizable: MAThread can meet customer's specific needs.
Always improving: The design is regularly reviewed and made better.
In addition to automotive, MAThread® design can be used in a wide variety of industries, including construction, heavy equipment, motorcycles & recreation vehicles, and water craft.