Continuous Innovation: What is it?
At Fastco, we believe in continuous innovation. But how does innovation happen? It happens through small actions, through thoughts that spark ideas that turn into discussions, which turn into trying something new. It all starts with our team members.
Ergonomic Improvements are Essential
Over the last several years, Fastco has been making strides in improving the ergonomic impact of the working in manufacturing. These jobs are hard on a body and it is imperative that we continue to explore innovative ways to lessen the physical burden of the labor to keep our team members physically healthy, happy, and productive.
Sometimes, it takes someone outside of the job to come up with a clever and effective solution. Brandon Schell has been with Fastco for over 9 years. He started in preventive maintenance, moving up to machine repair, and now serves as our 3rd shift lead. He has been an integral part of the maintenance team during his tenure, and helped us make a range of improvements. This includes improving the dump pans in our cold heading bay 2 so that the bottom pulls out to dump parts instead of the operator having to lift and dump the pan.
While pulling is a better ergonomic solution than lifting and dumping, our Facility Manager, Steve Kowalczyk, and safety team were still hoping to find a better solution. In addition, most of our cold heading machines were still set up with dumps that require lifting and dumping, a motion that also requires the operators to twist their bodies.
Continuous Innovation: New and Improved Dump Pans
To eliminate this, Brandon thought that if you designed a pan that rotated, it would be an improvement. First, he developed a model, a miniature version of the concept. It was a semi-circular pan, rather than rectangular, that would be mounted under the conveyer. Parts would go from the machine into the pan and then, when it was filled and checked, the operator could simply turn a wheel on it, rotating the entire pan and dumping the parts with minimal effort.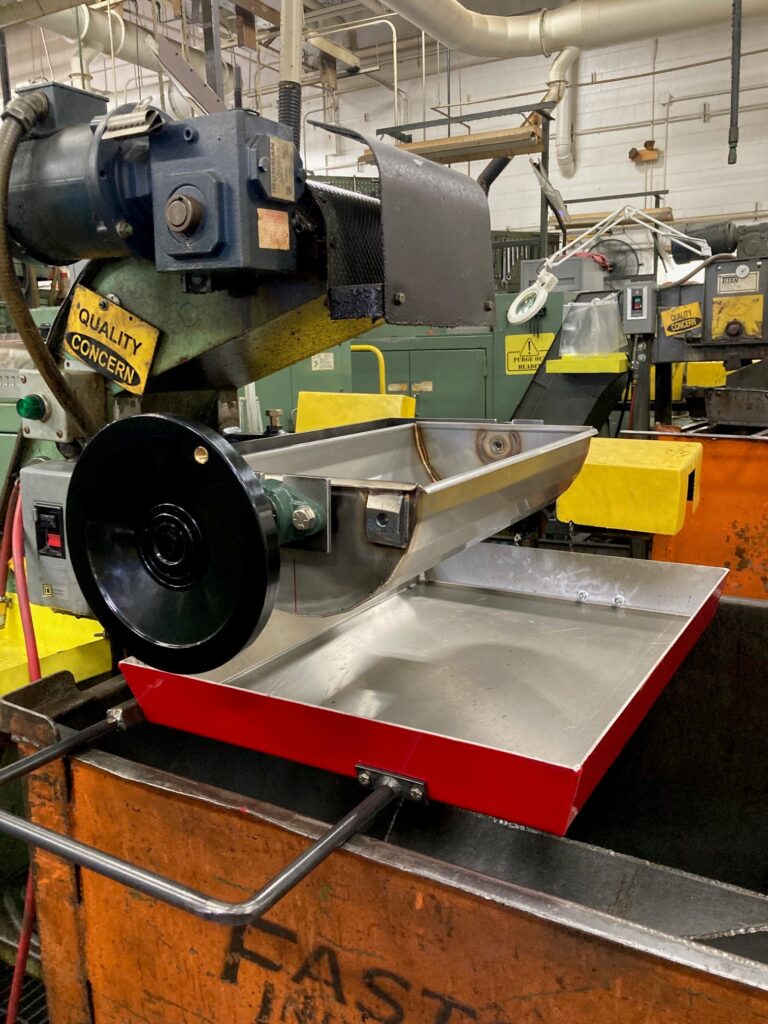 After receiving approval for the idea, Brandon and our other 3rd shift machine repair tech, Luke Vawter, worked to set up the pan. They mounted the brackets and added the stoppers to lock it when it rotates and prevent the pan from tipping. They started by mounting it on machines with higher conveyer belts. As of now, the device will not work for machines with a lower conveyer. Luke is working on an idea for an arm on which to mount the dump pan. This will allow it to be moved and adjusted for lower conveyers.
We are currently testing out a couple of these dump pans to gage effectiveness. We will be checking in with operators that use the equipment to determine how well the pans work. The goal will be widespread adoption in all the bays. Eventually, we'd like to replace the turning wheel with a button to automate the process further, removing all physical strain from the operator.