Thread Roll Update 2023

Thread Roll's Improvement in Cost of Poor Quality
This year, Thread Roll's greatest achievement has been reducing our cost of poor quality. As of the end of June, we were at about half the  COPQ as we were at this time in 2022, so this is a huge achievement. We are meeting our COPQ goal for the year and I'm really proud of my people for this. We have been emphasizing visual inspections along with parts being in spec and the team has been keeping their eyes on the parts. Our goal for 2023 is to be at less than half the COPQ that we had in 2022 and we are well on our way to meeting that goal.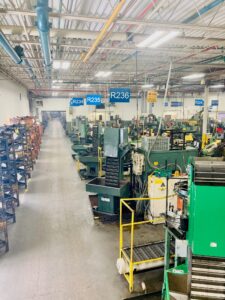 Thread Roll Update on Productivity
Another big achievement for Thread Roll this year has been our productivity. We have even been able to incorporate additional volume from an cold header that was struggling to keep up with their thread roll volume. I have been pleased with how everyone has come together to add these parts into the mix. Receiving bonus checks as a result of our hard work has helped show the team the importance of working together and the impact of what we can accomplish. In addition, the quarterly incentive profit shares, financial education, and huddles have helped me, the Thread Roll team, and many other team members understand the financials in an eye-opening way that has motivated us to do.
by Matt Kik, Thread Roll Team Leader