What are mechanical fastening pins and what do they do?
In the world of fasteners, pins are one of the most basic looking components. Pins are unthreaded, usually cylindrical. Their purpose is to "keep machine parts in proper alignment or fasten them together," according to Britannica. These are known as mechanical fastening pins, not to be confused with the pins used to hold fabric while sewing or push pins that you use to tack up paper products to corkboards.
More or less, mechanical fastening pins fall into two categories:
They rely on friction to hold them in place.
This includes most types of pins, from dowel pins to grooved pins to fetter and knurled pins and even spring pins. The more solid the pin, the more precisely it holds components and the more strength it has. On the flip side, more compliant pins like spring pins are easier to insert and more tolerant of dimensional variations in holes.
They have some form of positive locking feature.
This would include split pins and lynch pins. Since these pins do not rely on friction alone, they are easy to assemble and disassemble.
Among these groups, there are a myriad of pins, from solid pins to grooved and slotted pins to coiled and spring pins. These pin types all have all have distinctive appearances as well as varying functions. At Fastco, we manufacture primarily solid pins, as these parts fit the cold forming process well. Spring and coiled pins are better suited for a stamper or caster.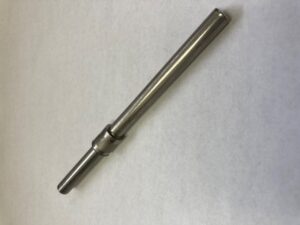 Types of Mechanical Fastening Pins
Some examples of pins that we manufacture at Fastco include:
Clevis Pins (these fasten a u-shaped device together with the help of a cotter pin)
Dowel Pins (a simple solid cylinder that is inserted into a preformed hole)
Hinge Pins (a pin that holds to parts together so that one can swing relative to the other)
Locating Pins (used to locate an item on a fixture or to align two pieces of the fixture)
Weld Pins (pins that are welded into place)
Fetter/Knurled Pins (pins that have a fetter or a knurl)
Interested in learning more about what we can do for you? Contact our sales team today!